Overview
Expansive Civilian Warfare (Typically referred to in the community as "ECW") is a very extensive massive open world modification to Command and Conquer Renegade. ECW features over 100 different weapons, vehicles and a space of 100,000×150,000 meters to explore. This gives the primary "mission" or purpose of the game on discovering everything the map/town "San Casina" has to offer and also work/earn money towards it. Though (as with most open world games) the purpose of the game and how to play is ultimately left up to the player. Originally developed as another heavily modded map for Renegade called "Roleplay2" the game is now being headed and developed under the name ECW by the good people at www.W3Dhub.com and most notably Jerad2142.
History
*NEEDS UPDATING/HELP FROM THOSE KNOWLEDGEABLE @ Jerad2142
Gameplay
Upon first playing ECW, users will be presented with a basic tutorial which showcases all the controls and features to help guide oneself around San Casina. After completion of the tutorial users will appear in the "Spawn Room" which houses multiple teleports around the map as to cut down on time traveling. Players (upon deciding) will then spawn and be put into the world of San Casina (ECW) with a grace period of protection to prevent spawn killing. It is then up to the player to decide where they want to go (although the options are numerous). The game is only available on multiplayer with (currently) no single player story mode.
Money (and the acquisition of it) is often times seen as the primary goal of the game in which case there are numerous possibilities to earn it. Spread and hidden throughout the map are "active" ways to earn money which include the likes of working as a cashier (Standing behind a register), Pole Dancing, acting as a police officer and even good old destruction/mayhem. It should also be noted that passive ways include activating Pump Jacks which give a steady stream of credits when activated or a combination of "perks". Almost every object or vehicle costs money in the game which provides a high motivation to continue gameplay. Finally, to help new players find their footing there is a very high reward ($1,000,000 to $250,000) to discovering new places around the map. In addition, spending 5 minutes in-game every 24 hours will grant you a $100,000 Check-in streak (accumulative up to $1,000,000).
Perks are also another predominant feature of the game which are in its simplest forum special abilities you can choose before you spawn. Perks can determine victory in a battle along with the amount of cash flow you earn. However it should be noted (adding to the exploration factor of the game), the primary way to get perks in-game is to earn them through using a weapon, vehicle or doing something long enough that you unlock it. In example, activating 50 Pump Jacks will earn you a perk that makes them last twice as long. As with perks, Server Records are also randomly acquired based on if you have broken a record (Such as flying planes the longest out of everyone) or not
The combat system in-game has generally remained the same with pointing and shooting at your enemy's. It should however be noted that due to the extensive vehicles and weapons (over 60 of each) it is possible to freeze, burn, arrest, taser, or drop a nuclear bomb on your enemy leading to various, sometimes wild battles.
Besides player vs player fighting (which is generally frowned upon/uncommon in-game due to the nature of it), the main combat system comes from police or other A.I. Attacking other A.I. players cars or police vehicles will cause you to earn a "Bounty" which will start to quickly evolve as your habits against the world turn more and more aggressive. Attacking the police (successfully) will cause their tactics and weaponry to increase as well until your eventual death or arrest. Upon arrest you will then be spawned into jail where you cannot leave until you ether pay a heavy fine or stay a certain amount of time based on your bounty before you got caught.
A final gameplay note should be added that random temporary events/weather will occur throughout the game almost every 5 minutes which can include the likes of Tornadoes, Mech Invasions, Aliens or Deer Attacks. Although it is said to be possible to control the weather through the W.T.F. Weather machine by finding codes around the map.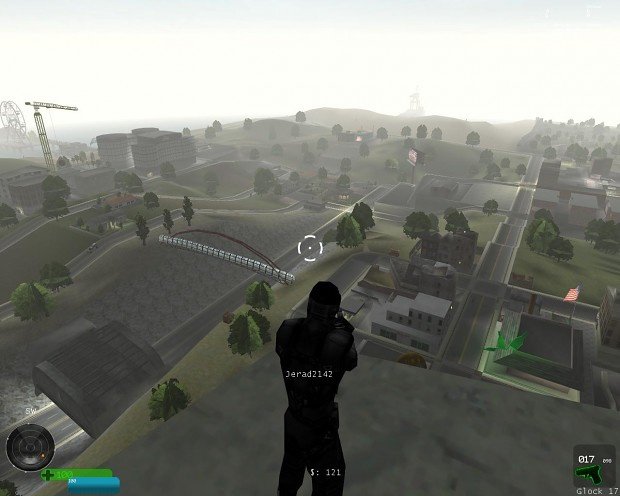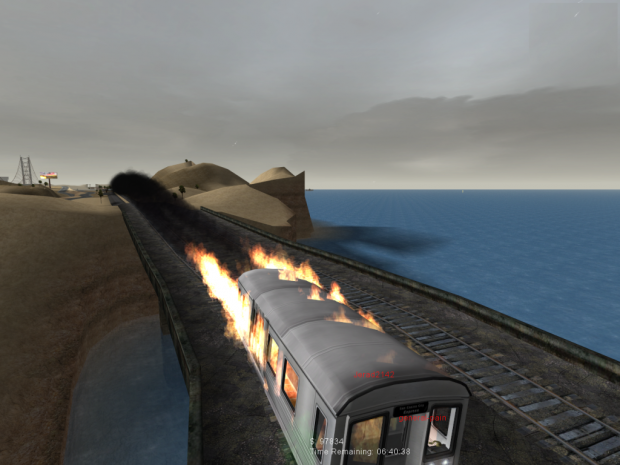 Current State
The game currently is monitored and updated by the staff at www.W3Dhub.com. The primary head of development for the game along with updates is Admin Jerad2142. In the past couple of months various patches and updates have been released that have since enhanced the game with more Vehicles/Weapons/Locations and bug fixes.